Tuesday Bullet Points.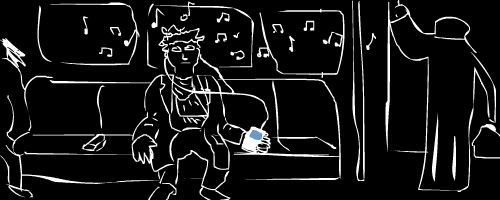 I am woken up by a phone call today at 2:00pm.
Second day in a row I curse myself for oversleeping.
Again, I do not have the time to pump weights or go shopping in the West End.
I get a phone call from one of these guys about one of the music videos I am lined up to shoot next year. Probably delayed until February. I expected this.
I get an e-mail from the animator I am working with. We still have a weenie bit of ironing out to do.
I make a call to a girl who has connections with some good South London music people. No answer. I leave a message.
I get an e-mail confirming my provisional place(+1) on the guestlist for a rather swanky New Years Eve Night out. I wonder who I might take.
I have Kentucky Fried Chicken for breakfast and spent what remains of my afternoon in my friends record shop.
I go to Salsa in place I used to go to regularly. It is nice to meet the girl I had my first Salsa Dance with again. (I was quite into her earlier this year and it all
seemed
to be leading somewhere nice...but that is another story) It really is quite nice to see her again - this makes me happy.
I also enjoy a dance with an attractive Greek girl. This makes me happy.
On the Tube ride afterwards I listen to some old Pirate Radio Sets from 1994 on my iPod. Dream FM 107.6. This also makes me happy. I hear a remix of a tune that I did not know their was a remix of - this is one of my favourite Old Skool tunes. I an overcome by the poignancy of the moment.
I go back to that bar to follow my spider sense and see if that
other
barmaid is working. She is not. Although disappointed I go home still happy. Happy because I realise it doesn't take much effort to do some things... but these things, they make life so much more fun.
Now I sit at my laptop typing on my keyboard,
Shortly I will put up the Christmas tree and then watch a DVD in bed.
Tomorrow I hope to wake up and pump weights in the gym. Maybe if I have time, I will go to West End and do some shopping. But I do not hold out much hope.